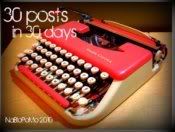 NaBlo...what the heck, you say?
NaBloPoMo
stands for National Blog Posting Month.
Basically you post to your blog every day for a month.
I have never signed up for this before. First of all, I don't know that I can commit to it with my crazy work schedule. Second, who in the world wants to see me drivel on about my boring daily life?
Well, I AM committing to it...I'm committing to a lot of things this month, but more to come on that later!
And hopefully YOU want to read more about me! (Please say yes...please? Say you like me, say you want to know everything I've never posted here and more? Please?)
~~~~~~~~~~
My sweet and funny friend
Suzy
has a blogroll set up for whoever wants to join in the marathon month of blogging!
Now skeedaddle on over there, sign yerself up and git to postin'!
Back later for my first "official" post of NaBloPoMo!